So you're at the bridal shop and there are so many gowns - how do you know what's right for you? Well, first, what body type are you? Not every gown style flatters every body type. Once you know your body type, it makes dress shopping so much easier! There are so many body types, here I'll just be addressing the main body types or most commonly known body types.
Are you large busted?
A heavier top needs to be minimized, meaning you want to draw the attention away from the ta-ta's. An A-Line gown or Ballroom style gown works great because the gowns are fuller at the bottom giving a more evenly proportioned appearance. With or without sleeves, even! Just make sure that the bodice of the gown holds you well, but not so tight that you're busting out of the bust! Keep in mind, too, that the more decoration that you have at the top is going to draw that much more attention to your bust. It's better to have decoration flow evenly through the gown or more so towards the bottom for the best effect.
(gown shown by
bebe.com
)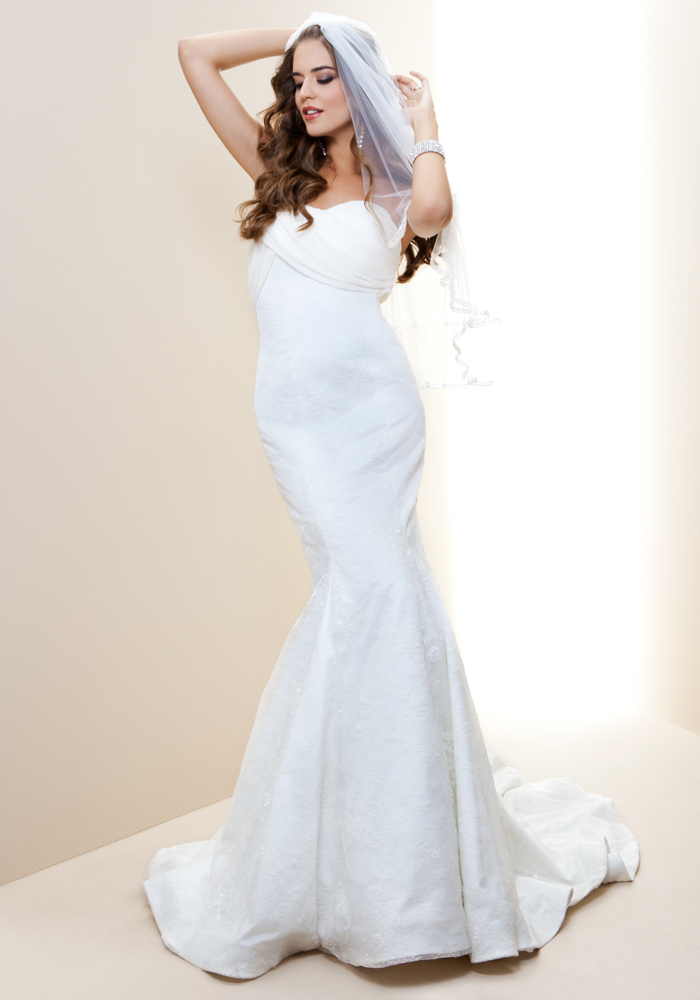 Is your body more "boxy" or athletic?
If your hips and bust are relatively the same size and your waist is "hidden" then you fit this body type. You could get away with wearing almost any type of gown that can give you the appearance of a waist. The A-Line, Ballroom, Sheath or Mermaid are a few that would look great on this body type. A Sheath gown is a fitting gown all the way down to your feet, where the Mermaid gown is almost the same, but it flares about the knee area. The A-Line and Ballroom have waists, so maybe a higher waist like a baby-doll bodice or a lower waist to rest at the hip would be a great way to enhance your bust or hips without bringing notice to the area where you have no waist.
(gown shown by
bebe.com
)
For the full-figured bride
There's nothing wrong with being full-figured because women (like me) have curves! A Ballroom gown or Empire style gown would be right up your alley because it will accentuate your curves smoothly while giving the appearance of an even proportion as well. Fitted bodices are nothing to be afraid of, just make sure that you are fitted well in areas that are meant to be snug. It's not flattering to have the "busting at the seams" appearance, believe you me (I've been there and done that!).
(gown shown by
IGIGI
)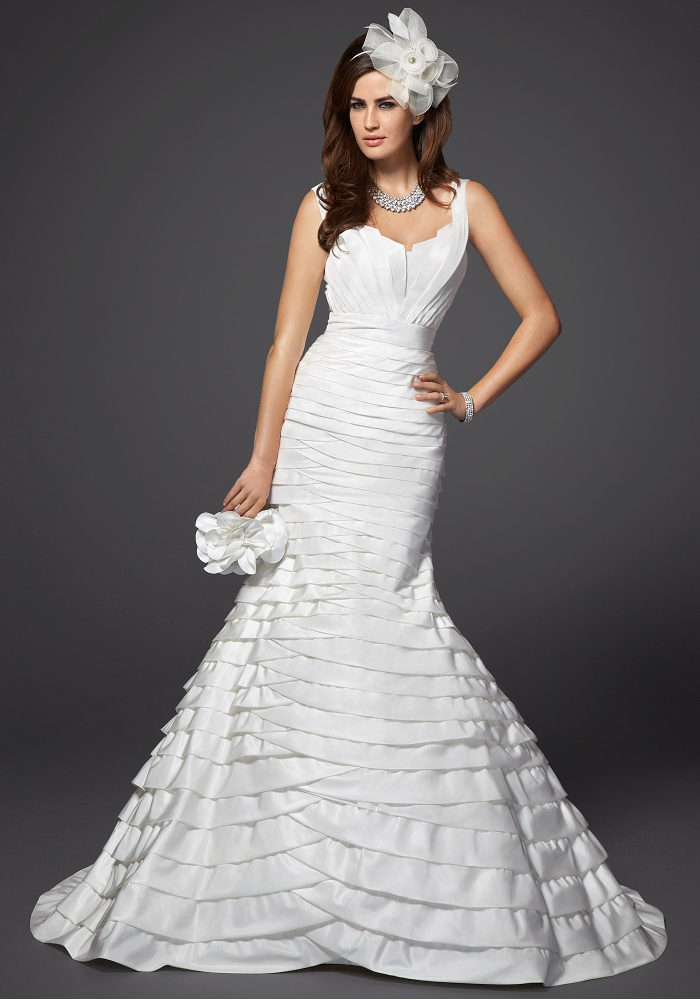 Do you have the coveted hourglass figure?
If your bust and hips are the same size with a little-bitty waist, then my dear you are an hourglass! You would look smashing in a Sheath or Mermaid gown. These styles will totally show off that lovely figure of yours, whether you have sleeves or not. Once again my advice is to make sure the dress is snug enough to hold you up, but not so snug that you are popping out.
(gown shown by
bebe.com
)
These are just a few of the more common body types, but there are many more out there. I did find a great site that provides a bunch of suggestions for more body types. ImpressionBridal.com has wonderful illustrated charts, explanations of body types and dress suggestions, too! Visit them at
www.impressionbridal.com/style-guide.html
.